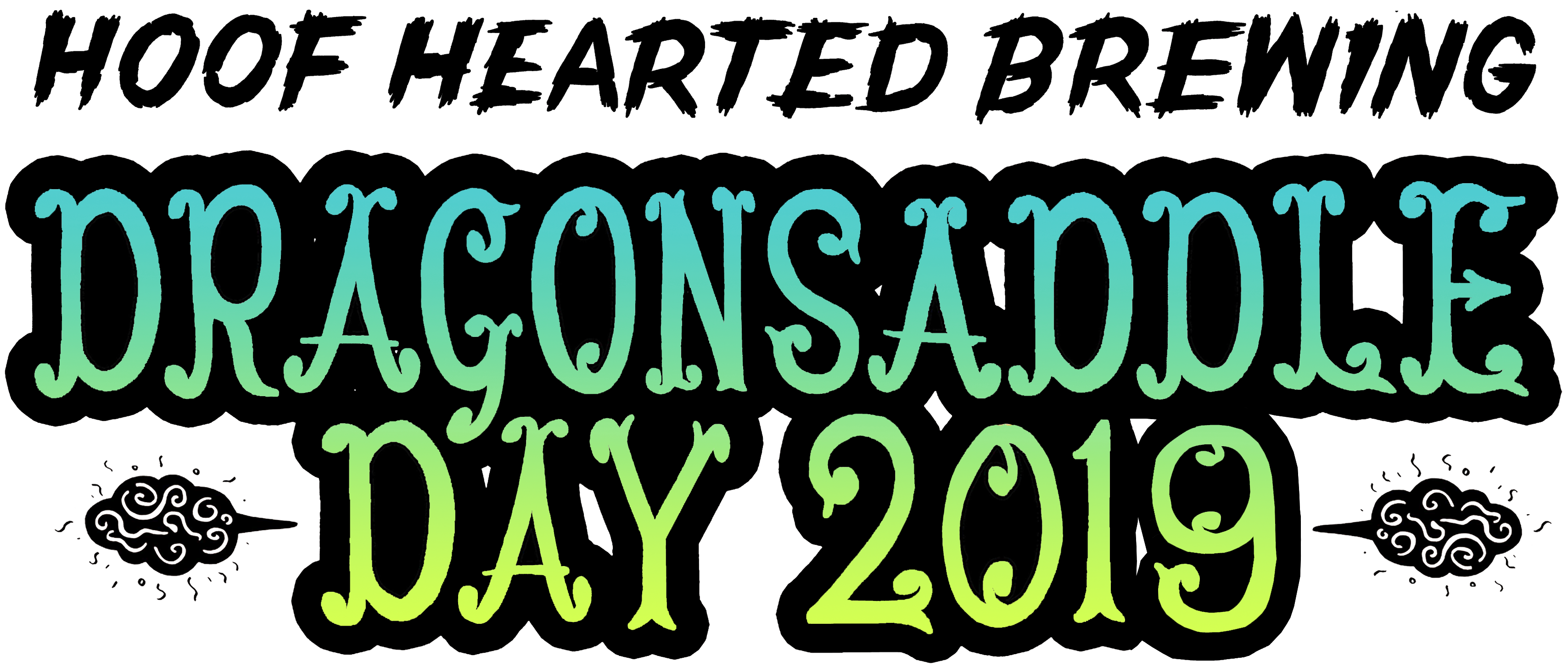 DUDE WHERE ARE MY PANTS - 2019!
Ladies and Germz, we're proud to announce the most brutal iteration of Dragonsaddle Day - our celebration of killer music and some of our more heralded libations - is back on September 21st, 2019 with the hopes of melting skulls (and keeping yr bones as trophies). We've got some new beers coming your way, a whole new lineup of killer bands, plus the return of our "Friends and Co-Conspirators" beer fest portion featuring some of the best breweries in the bidness. RIDE THE DRAGON!
This is a ticketed event. You must be 21 years of age to enter. No children or pets will be permitted to attend this event. Bottle sharing will not be permitted on our main or reserve lots and will be strictly enforced. Draft will be limited to on-site consumption only.
Please remember to bring a paper or mobile ticket with barcode and a valid driver's license or state ID.
Ticket Tiers
Music Festival Only ($20)
Like in years past, HHB has amassed a deep reservoir of hi-caliber, maxxx-energy musical talent for your audible pleasure. If you're looking to come out to drink some killer draft beer whilst having your face melted all-the-way-off, Music Festival Only tickets are the way for you.
Let the brutality commence!

(11:00 AM - 11:45 AM)

New local Columbus legends most recently banned from Comfest 2019. "Unchipped sounds like if AmRep signed a Kraut-Rock band."
-Ghettoblaster Magazine

(12:00 PM - 1:00 PM)

Bridging the dark divide between old-school metal and the current landscape, Haunt is leading the charge in the revivalist category. Combining gnarly riffage with throwback vocals and big, heavy rhythms, Haunt is destined to put you closer to an already early grave.

(1:30 PM - 3:00 PM)

No minced words - no bullshit. Lyrically progressive and structurally flawless, Power Trip provide a perfect downhill sensory assault that's topped only by their live performances.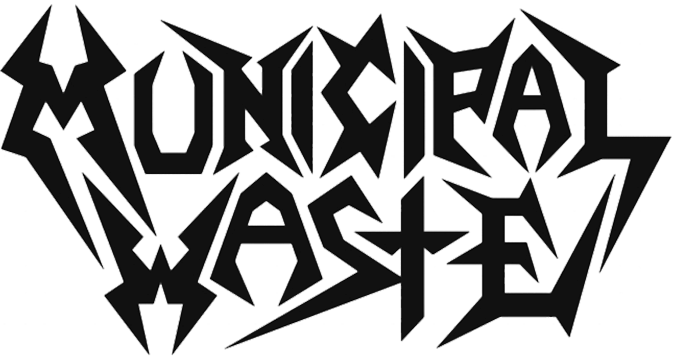 (3:30 PM - 5:00 PM)

...is gonna f*ck you up! Thrash icons Municipal Waste are leading the charge at this year's Dragonsaddle Day and for good reason. Masters of speed-metal shredding and devotee's of the ancient art of partying, these 20+ year vets will surely be out for blood. Prepare for unholy chaos.

Beer Release + Music Festival ($25)
Last year marked the first release of Bourbon Barrel Aged Girth Brooks as well as our first mixed culture fermentation project, Maxi JoJo Corvette Candi. Alongside Bourbon Barrel Aged Fitness Freak as well as the ultimate party juice, Dragonsaddle, all will ride into battle with a new hired gun:

Bourbon Barrel Aged Motion Lao-tion, (12% Double Mash Imperial Stout w/ Laotion Coffee), a collaboration with our main west-coast cat Kyle Harrop, owner/brewer at Horus Aged Ales.
DSD '19 Allocation
(3) 4-packs (16oz cans) – Dragonsaddle Triple IPA ($19.99 per 4-pack)
(5) 2-packs (16oz cans) – Bourbon Barrel Aged Imperial Stout in any combination while supplies last ($21.99 per 2-pack)

Bourbon Barrel Aged Fitness Freak (14% Imp Stout w/ Hoof Hearted Coffee, Vanilla, Maple Syrup)
Bourbon Barrel Aged Girth Brooks (15% Double Mash Stout w/ Hoof Hearted Coffee, Vanilla, and Toasted Coconut)
Bourbon Barrel Aged Motion Laotion (12% Double Mash Stout w/ Laotion Coffee - collab w/ Horus Aged Ales)

(1) 500ml bottle – Maxi JoJo Corvette Candi (Mixed Culture Saison fermented in Red Wine barrels) - ($12.99 per bottle)
(4) Crowlers (32oz can) - Limit (1) per variety - ($18 per can)

Dragonsaddle with Pineapple & Marshmallow
Quit Yer Fussin' On Me with Boysenberry, Raspberry, Blackberry & Marshmallow
Cowboy Konkey with Peach Purée
I Wanna By A Cowboy Too with Passion Fruit Purée
King Ding-A-Ling ($100)

BEER RELEASE + MUSIC FESTIVAL + GUEST BREWERY TASTING
And if that's not enough for you (and we know it isn't), this year will see a new wrinkle in the fold - a "Friends and Co-Conspirators" portion that plays out like the festival within the festival. We have some of our favorite partners-in-crime sending some hyper-saxxual suds our way to help get the party movin'-n-groovin'.

Most of these breweries don't have distribution in the state of Ohio, so this is your only chance to try some super-fresh suds on draft. Made available ONLY to those who purchase 1 of the 400 King Ding-A-Ling tickets, the lucky few will secure their allotment of cans for the day AND receive access to rare pours from the following breweries: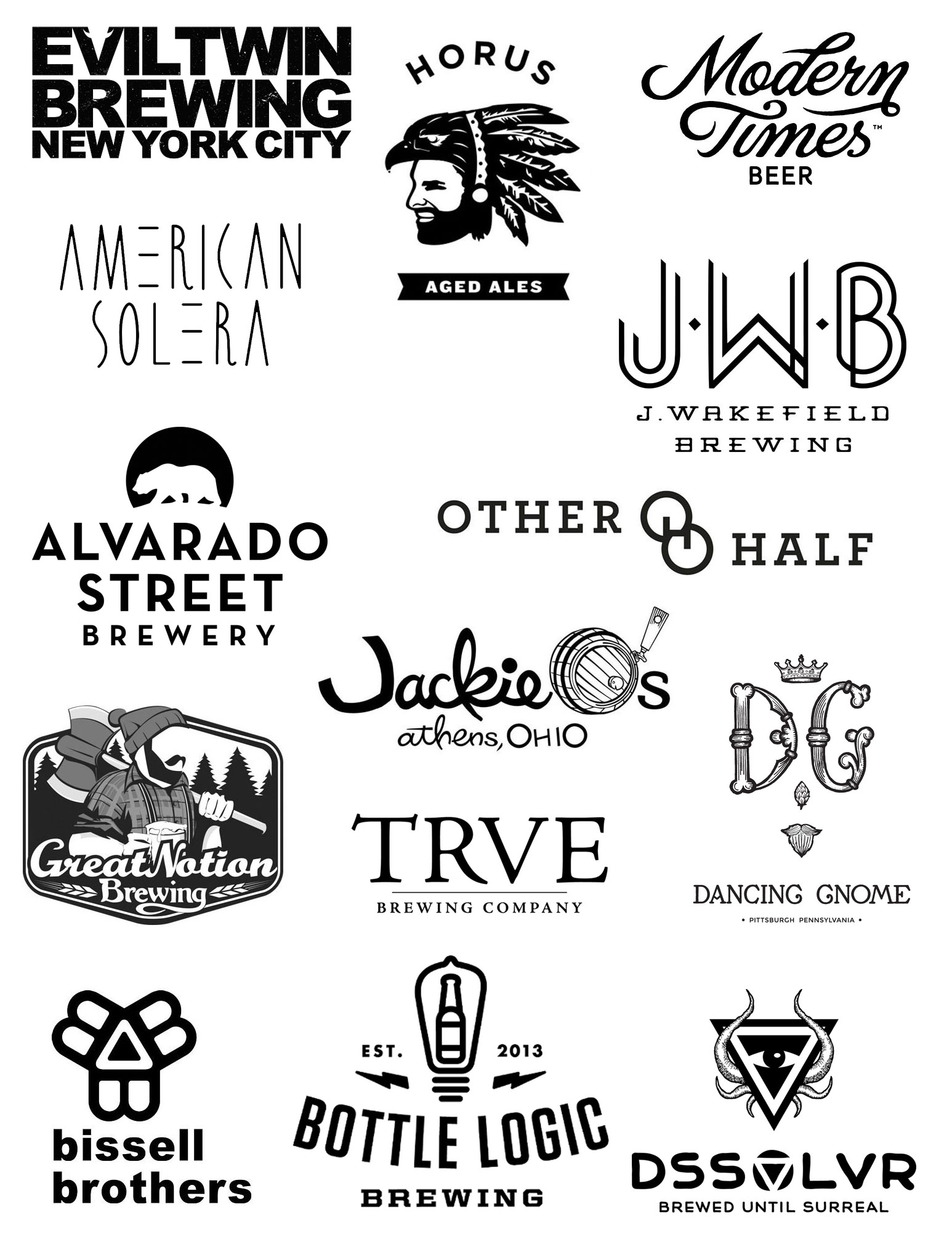 Directions/Parking
Parking at Hoof Hearted Brewing is expressly prohibited on the day of the festival. Parking will be reserved for musical acts, buses, and emergency vehicles only. Keeping the parking lot clear at Hoof Hearted Brewing will ensure buses can move fluidly getting people to/from the festival grounds in a timely manner.
The good people at Cardinal Camping Center have been gracious enough to provide us parking on their grounds. Please be respectful and follow the direction of the parking attendants by parking vehicles in an appropriate manner. Be aware that parking lines are not painted on the lot. We do ask that you park in an orderly fashion to ensure we fit as many onto the lot as needed.
The Cardinal Camping Center is located west of I-71 on US61. Signs will be posted at the entrance of the Camping Center and parking attendees will direct traffic in the designated parking lot. Any parking outside of the designated parking area is prohibited and violators will be towed. Though there will be ample parking we do recommend car-pooling to minimize parking foot print. Please see the map below.
Directions from I-71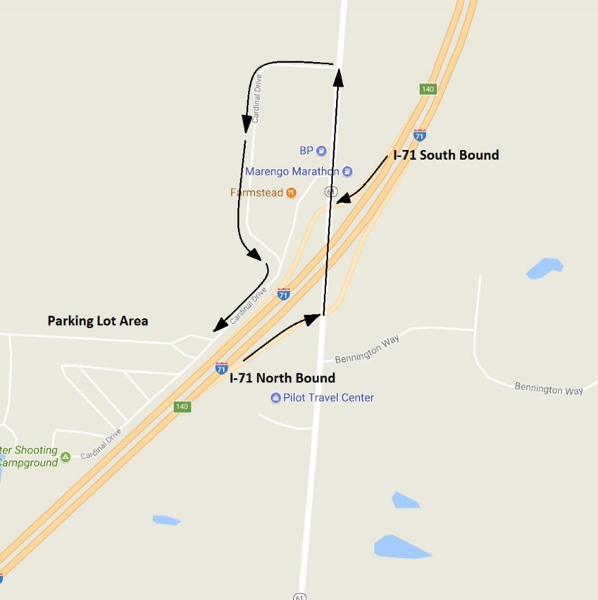 Exploded View of Parking Lot & Instructions
See parking attendant
Park - follow attendants' directions!
Safely exit your vehicle & proceed to one of the shuttle buses
Have ticket ready!
Board shuttle / prepare to party

Transportation
All attendees will be transported from the Cardinal Camping Center to Hoof Hearted Brewing via shuttle buses. Buses will start running promptly at 9:30am. There will be multiple shuttle buses running simultaneously to ensure that all patrons arrive in a timely manner. Please be patient and follow the direction of bus attendant(s). It may take 1-2 hours to transport the entire volume of people to the festival entrance. Consumption of alcoholic beverages on the buses is strictly prohibited.
Check-In
Ticketing check-in will begin promptly at 9:30am.
After parking at the Cardinal Camping Center, attendees will load onto one of the shuttle buses to be dropped off at the brewery. Both digital and paper tickets will be checked in at the brewery entrance and attendees will be given a wristband and other festival items based on their type of ticket.
The wrist bands signify the check-in has been completed and are required to be worn during the festival. Do not remove the wrist band during the festival! Anyone caught without a wristband will be forced to leave the premises.
Security @ HHB
Security guards will meet attendees at the entrance of the festival. Please be prepared for bags and purses to be searched. Any illegal substances or weapons will be confiscated. Remember, you must have a wristband to be able to enter the premises that day, no exceptions.
Purchasing Your Allocation
Your allocation will be secured on-site at HHB the day of the festival. To pay for the allotment, please proceed towards either the "reefer" truck table or the "brewery" table where an employee from HHB will be able to take payment and dole out your allotment to you. Both will be marked clearly as to avoid confusion.
**We will not be holding beer after receiving payment. Be prepared to take your allotment after purchase. We advise that upon receiving your allotment that you take it back to your car and also suggest to bring a cooler to keep it away from the heat.
Other Pertinent Info
Uber and Lyft DO NOT OPERATE in Marengo. Please plan accordingly, and drink responsibly.
There will be limited seating at picnic tables near the food area. We recommend attendees bring camping chairs, blankets, etc to the festival to be comfortable during the event.
Multiple food trucks will be present at the festival grounds. Dragonsaddle is a high-gravity beverage. Can't stress this enough folks; we strongly recommend eating throughout the course of the day.
Busing will start at 9:30am and music acts will begin at 11am. A few buses will run throughout the course of the day in the event patrons need to leave or show up late.
Cardinal Center has campsites available to rent that day for those who are interested. They have 20 cabins, a plethora of tent camping sites, as well as RV Camping.
Cardinal Center Campgrounds contact information & website - (419) 253-0800
thecardinalcenter@yahoo.com
https://www.thecardinalcenter.com/camping
There are plenty of hotels within 10-15 miles of Hoof Hearted. If interested, check out lodging off of the 71 & 36/37 and Polaris Parkway exits.